Is cloud computing important for marketing your business?
Last week I attended the biggest cloud computing convention in the world—a trade show called Dreamforce. Why should you care? Because cloud computing or SAAS (software as a service) as it used to be called is gaining both in popularity and importance for all sizes and types of businesses today.
The cloud computing model requires you to be hooked up to the Internet where you access functionality through your web browser. This model stands in direct contrast to the traditional way software applications are downloaded onto your hard drive and functionality is based from inside your computer. I don't know about you but I've always liked that model. First off, I feel like I own the software. Secondly, if I'm not connected to the Internet I can still get stuff done. On top of that the monthly fees of a cloud computing provider generally seem greater than the cost of buying a direct application and loading it onto my computer.
But there are a lot of advantages to the cloud computing model. The biggest of those advantages is the fact that the promise of the web is interconnectivity and this is best provided by an Internet-based application. Let me give you an example. LinkedIn just announced that they were offering a new service. For $30 a month you can have all the data from your LinkedIn connections display within your Salesforce browser window. This will allow you to search, view and organize data LinkedIn data in a way that's never been done before.
Salesforce is the industry-leading cloud computing customer relationship management (CRM) system. From within a system like this you can automate, synchronize and set a timetable for all your client interactions. If you do not use a CRM of some kind you are at a competitive disadvantage in the marketplace.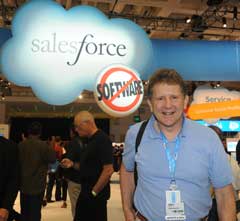 Salesforce is also the creator of Dreamforce. It's interesting to note that Dreamforce got started in 2003 in front of 500 attendees at the St. Francis Hotel in San Francisco. Last week Dreamforce had more than 30,000 attendees and it filled up the Moscone center.
You need to be concerned with web enabled marketing and sales automation. This is a big deal for every company in terms of staying competitive. At this point in time whether you do this with a traditional application or cloud computing is less important than getting it done in some way. In the future the Salesforce/Dreamforce vision of changing the way computer applications are delivered—and how they function—is gaining traction. From the standpoint of staying competitive into the future this vision seems right on track.