DeepSky Event Calendar
Public Talk

The Future of Business

A DeepSky event with Jeffrey Schmidt

See what's coming — market forces already in motion
Social and ecological movements are changing business for good. In this seminar you will see crucial information for making business decisions. We are at a point in history where we are being called to choose: shall we keep on with business as usual or will we summon the courage to transform our destructive practices?
It's already happening
In this talk you will see real life examples of how people are creating businesses that promote people and planet as core values. The interesting thing is these companies are also realizing greater profits! You will see how this works and it will spark your imagination.
Purpose – what is yours to do
Purpose-driven companies outperform rivals by 600 – 1,000%.* Purpose, leadership and culture are the new currency for employee engagement, greater sales, and fulfillment for all stakeholders.
Your personal calling
Businesses change only when people do. What might it look like to evolve toward a healthier relationship with every aspect of your business? This will effect the way you relate with your inner self, other people and all life on earth.
Jump in when ready
Catch the wave of the future with care. Like a surfer who feels when it's right to start paddling choosing this path requires intuition and fortitude. Is this your time? This talk will help you choose.
– What clients say
"This process has produced huge dividends for our company…sales, marketing, operations, customer service and employee satisfaction have all benefited from our sessions with Jeffrey."
John Parry Owner, Solar Works
See 50+ more testimonials on "What Clients Say" page.
See case studies on our "Case Studies" web page.

Location
Sebastopol Entrepreneur Projects (SEP)
1003 Gravenstein Hwy N • Sebastopol
Date and time
Thursday August 29, 2019
7:00-8:30 PM
Host
Sebastopol Entrepreneur Projects (SEP)
Sponsor
Sebastopol Chamber of Commerce
Cost
Donation only.
Presenter
Jeffrey Schmidt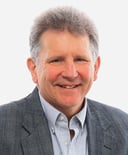 Jeffrey Schmidt connects with heart. He supports business people to expand their world to regenerate life on earth, increase profit and create company cultures based on safety and trust.
Jeffrey owns two firms: DeepSky Marketing and Agency for Earth. He is a public speaker, trainer and consultant on the topics of business, environmental awareness and personal growth.
He is a certified NARM** practitioner, a QiGong teacher and a meditation instructor. He is the author of three books: Five Proven Internet Marketing Methodologies, Seven Key Questions You Must Ask Your Communications Partner, and Five Ways to Enliven Your Message.
* Book: Firms of Endearment.
** NARM: NeuroAffective Relational Model™
An advanced method for healing developmental trauma.
Download Flyer HERE.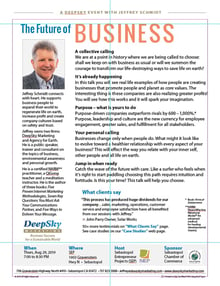 ---
Public Talk

Youth for Climate Action Panel

The worldwide youth movement started by Greta Thunberg
Once we start to act, hope is everywhere. Greta

For decades science has plainly stated that climate change poses an urgent threat to life on this planet, yet society's response has failed to meet the scale of the problem. The Youth for Climate Action Panel will address the state of the crisis, as well as what collective and individual changes are necessary to protect our shared future.
Location
Newman Auditorium Santa Rosa Junior College
Date and time
Monday May 13th, 12:00-1:30
Co-hosts
Center for Applied Consciousness and ScientistsWarning.org
Admission
FREE - Register on this Eventbrite Page.
Panelists
Jared Huffman
California Congressman.
Laura Neish
Executive Director of 350 Bay Area.
Sophie Anderson and Jonathan Palash-Mizner
Co-founders of XR Youth US.
Jeffrey Schmidt
President Agency for Earth and DeepSky Marketing.

Download Flyer HERE.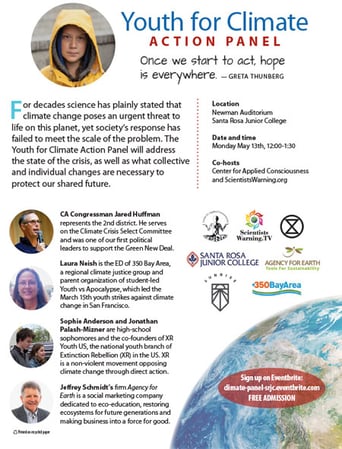 Coming Soon
Sell with Innate Joy
A seminar for your sustainable business with Jeffrey Schmidt