DeepSky Event Calendar
Public Talk

Youth for Climate Action Panel

The worldwide youth movement started by Greta Thunberg
Once we start to act, hope is everywhere. Greta

For decades science has plainly stated that climate change poses an urgent threat to life on this planet, yet society's response has failed to meet the scale of the problem. The Youth for Climate Action Panel will address the state of the crisis, as well as what collective and individual changes are necessary to protect our shared future.
Location
Newman Auditorium Santa Rosa Junior College
Date and time
Monday May 13th, 12:00-1:30
Co-hosts
Center for Applied Consciousness and ScientistsWarning.org
Admission
FREE - Register on this Eventbrite Page.
Panelists
Jared Huffman
California Congressman.
Laura Neish
Executive Director of 350 Bay Area.
Sophie Anderson and Jonathan Palash-Mizner
Co-founders of XR Youth US.
Jeffrey Schmidt
President Agency for Earth and DeepSky Marketing.

Download Flyer HERE.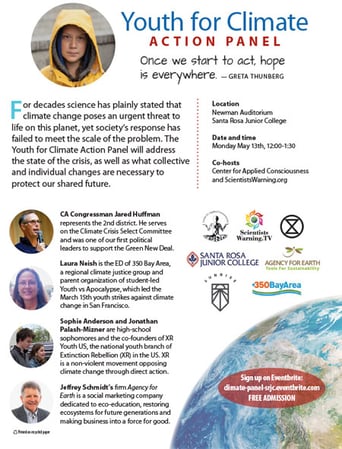 Coming Soon
Sell with Innate Joy
A seminar for your sustainable business with Jeffrey Schmidt