Website Redesign With the Customer in Mind
Welcome back! In our last blog, we started talking about whether it's time for your website to get a redesign. Just to recap, the our last blog boiled down to:
Don't start a new website design unless the explicit purpose is to increase leads and sales, and do make a concrete plan for doing so.
At this point, you should have the following things:
• A full site audit of all your content (text video's, ebooks etc.), as well as notes on what needs a full rewrite, partial editing and so forth.
• A good idea of who's linking to you.
• Analytics on your current numbers as well as new goals for the future.
• A fresh keyword analysis to guide your updated content.
• Someone in your organization who understands 301 Redirects.
However, there's one thing missing from this list, and it gets to the heart of website design: A profile of your customers.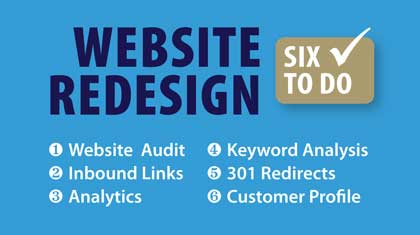 Content is for Customers
You don't want just anybody wandering onto your site. You want qualified leads who are likely to convert into customers. To get those leads, you need to understand your target markets and what they want.
In short, you need some market research.
Hopefully your sales team already has a profile of your customers, with demographic data and information about their preferences. This is also a great time to harness other online tools to gather more intelligence:
• Start social media conversations. If you have even a small number of online followers, ask them what they want to see. Get your fans actively involved at an early stage.
• Conduct online surveys. There are plenty of tools like SurveyMonkey that allow you to create polls for free, or for very cheap. If you think you have enough visitors to create a good sample, this is a fine way to do some cheap & dirty market research.
• Blog about it. Talk about the redesign in your blogs, vlogs, and podcasts. Discuss your larger ideas for the site and your business, as well as your future plans. Build interest in your enterprise.
Once you've got your target audience targeted, you should have all the pieces of the puzzle. It's just time to put them together.
What's The Plan for Your Website Redesign?
OK, at this point, you're probably getting sick of planning and are dreaming of the day you can start having artists pushing designs across your desk for you to critique Draper style. And we're nearly there.
However, what you have now is mostly dreams and raw data. The final step in planning is the one that too many people skip over due to impatience: creating a real, actual plan that takes your goals and makes them achievable.
So, those notes you've been taking? It's time to formalize them. Before getting into the actual website design, draw up a final Website Redesign Content Guide that leaves as little to the imagination as possible.
Your Website Redesign Content Guide
This should include:
• A full style guide to written content: tone, point of view, reading level, and soforth.
• A list of all content to be revised, preferably also in a spreadsheet that lists features such as its topic and purpose.
• A list of topics relevant to your target market to be explored in any new content.
• Concrete numerical goals for your site: how many more visits, leads, and sales you are hoping to gain.
• What bloggers and social media figures you'll target with outreach.
• Discussion of your larger goals and how you see the content accomplishing them.
And that's it for this installment. Next blog, we'll (finally) talk about website design itself and some of the choices you'll be facing. See you then!
Call DeepSky Marketing to find out how you can create profitable marketing strategies for your company. DeepSky Marketing is a company that provides businesses with profitable marketing systems and verifiable return on investment (ROI). To schedule a brief no-cost consultation call 707 823-3888.