Two Internet Marketing Security Tips
Many of us who use our web sites to get more business for our companies will be aware that cyber theft is a very real threat to the health and welfare of our digital marketing. Below are two cyber threats that you need to be award of so your Internet marketing will keep flowing without a hitch.
Tip #1: DNS Highjacking
The FBI is investigating malicious software (aka "malware") related to a computer's Domain Name Service (DNS) settings that direct computers to receive improper results from rogue DNS servers. This means someone can be trying to get to your site but will be redirected to another site. To see if your computer has been affected type the following search into Google: FBI DNS. When you do the following page will come up.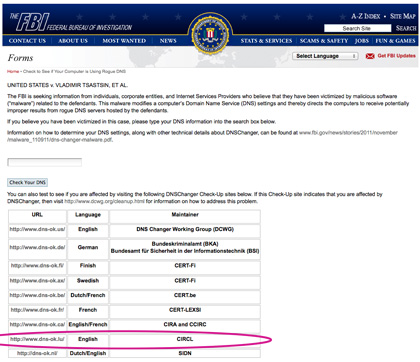 If you are in America and have an English text site click on the URL in the left hand box inside the red circle. If your DNS has not been tampered with you will see the following page:
If you do not see this page contact your Internet Service Provider (ISP) at once.
Tip #2: Passwords Hacked from LinkedIn
Many of us have come to rely on LinkedIn as a powerful Internet marketing tool. Recently 6.5 million passwords were hacked from LinkedIn. What does this mean for you? Well, the people who stole these passwords can use them to change your LinkedIn profile, that's number one. More importantly, if your password is one you use elsewhere, especially if you use it in a lot of places, you'll probably want to change that password in all those places. i know its a big hassle but dealing with a hacked site is even worse.
Call DeepSky Marketing to find out how you can create profitable marketing strategies for your company. DeepSky Marketing is a company that provides businesses with profitable marketing systems and verifiable return on investment (ROI). To schedule a brief no-cost consultation call 707 823-3888.