Three Steps To Twitter Stardom
As things stand right now, Twitter is probably the second most-popular social media outlet for marketing, after Facebook. (One of these days, I'm gonna get through a blog without mentioning Facebook, really!) Twitter is deceptively simple at first glance, and it does definitely have a "what you see is what you get" vibe to it. There's very little gimmickry about Twitter as well. It really is 90% about who you know, and writing things that they like.
However, despite its seeming simplicity, there's still a definite strategy to reaching Twitter stardom. We've broken this down into three steps which, while it might take you awhile, will allow you to harness Twitter as an effective marketing and outreach platform.
Ready? Off we go!
Twitter In Three Mostly Easy Steps

Phase One: Stake Your Claim
Signing up for Twitter is an extremely simple process. First you create an account, and then you spend a few minutes filling in your profile with information. This really should only take a few minutes.
Don't rush the profile, though. Since your Tweets are necessarily short, your profile is where people will be looking to find out who you "really" are. Make it complete, reasonably fun to read, and don't forget a link to your website! Also, give it a custom background (to give it a distinct look) and make sure to select an interesting profile picture. Try to use something more creative than just a corporate logo. In addition to your profile newly minted Twitter users should write up a few Tweets to give prospective followers a sense for what they'll be in for when they "follow" you. In my book the best Tweets contain two elements: a well-written headline and a link for more information. Bitly.com is a place you can go to shorten the URL of a website or YouTube video you find interesting.
After that, announce your new account on your website and other social media ventures, add "Tweet this!" buttons to your site content, and start Tweeting! Good Tweets are a mix of mostly business and a little pleasure. The main purpose of ANY Social Media campaign is to provide useful information to your target audience. That said, don't shy away from mentioning cool things at work, feel free to complain about last night's ball game or the latest developments on your favorite TV show too. You should show personality through your Twitter presence.
Phase Two: Reach Out And Touch People
Eventually, you're going to want to start garnering more followers than just fans of your company. Since any sort of direct sales and marketing are difficult on Twitter, the key to it is gaining credibility and a widespread following.
You'll want to start sending polite @user tweets to people you consider important. They could be industry leaders, popular thinkers, or other influential types. Don't just spam them with requests; follow their Twitter accounts and make active contributions to discussions. The hashtag "#" symbol is a way of starting, or participating in, a conversation about a specific subject. Make your voice valuable and people will start following your Tweets.
You especially want to look for users who are called "Super-Connectors." These are people who have large numbers of both followed users are followers, and they tend to become hubs of social activity on Twitter. Get a couple of them retweeting you, and you'll vastly increase your outreach.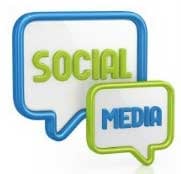 Phase Three: Here Comes The Science
Once you've established yourself on Twitter and have a decent following, it's time to start leveraging it. Get Tweetdeck and possibly some other social media monitoring tools, and start actively watching discussions about you. Look for opportunities to jump in and add to the conversations, to keep getting more people watching. Start tracking and graphing your response rates, looking for trends.
Also, for several months now, Twitter has been promising a full set of Web Analytics, which are currently in beta. Once it's released, it will make it vastly easier to scientifically track the effectiveness of your Twitter efforts. Keep your eyes open.
To Conclude...
Twitter is all about influence. Your tweeting efforts should be aimed at making yourself popular, and becoming close with other influential users. Keep that in mind, and you'll do well on Twitter.
Call DeepSky Marketing to find out how you can integrate a Social Media presence into your online marketing efforts. DeepSky Marketing is a company that provides business owners and managers with profitable marketing systems and verifiable return on investment (ROI). To schedule a brief no-cost consultation call 707 823-3888.