How to map your entire sales process
Part 1
Look, Internet marketing is tricky stuff.
It's easy to get overwhelmed by all the options for dealing with online marketing, so we wanted to provide you with a quick and simple map to handling both sides of your online sales. Imagine it as two funnels, meeting at their short ends, which is where your sales happen.
In this first part, we'll talk about the front half, the one you are probably most familiar with.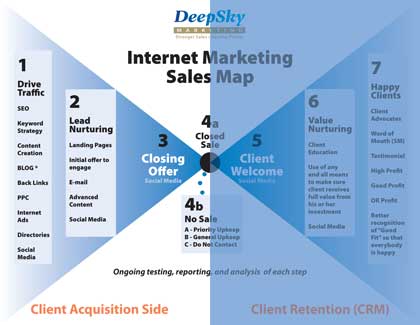 1 – Drive Traffic to Your Site
This is the largest part of the client acquisition funnel. You're spreading your message far and wide, attracting people to look at your website. Here, we're talking about the building blocks of inbound marketing.
Drive up your search rankings with great SEO and keyword strategies.
Provide quality information through blogs and other content marketing.
Put yourself out there through social media, and get people talking about you.
Make back links to quality articles, and get noticed by other reputable sites.
Don't forget, ad campaigns and pay-per-click strategies still attract eyeballs!
2 – Nurturing Leads
Once you've got them at your site, you need to hang onto them and convert them into paying customers.
Good, clean, Landing Pages make for a great first impression.
Advanced interactive content like Videos, slideshows, and chat rooms, make them want to stick around.
Engage them! Get their email address! Get them to "Like" and Re-Tweet your posts. Let them make that connection with you.
3 – Making the Sale
Here's where the funnel narrows, and you convert those potential clients into sales.
Keep in touch with your social media followers. Keep your business active in their minds.
If you've got their email, send a personal message periodically.
Make your offer. Keep at it, and make that sale!
Tune in shortly for Part 2 …